Concrete Key Holder - Dark
Original Key Holder for climbers made of dark concrete.
This key hanger made of dark concrete is the very first fujfuj hanger. Its texture resembles the surface of a rock, a feature that has quickly made it popular among customers. With its unique design, it fits into any modern home, contrasting beautifully with the white wall.
INCLUDES
Concrete key hanger

3 keychain nuts/stoppers (one big and two small) or 4 keychain knots

Wall mounting kit
The key hanger contains seven crack-like grooves where keys can be hung using mini-nuts or mini-knots. The hanger provides two options for hanging keys - easy or difficult. Included in the package are keychains for the selected option, instructions, and an assembly kit.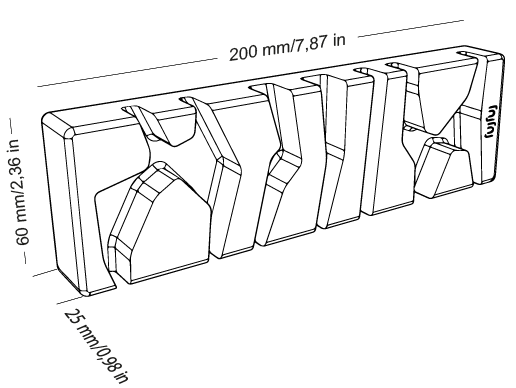 MOUNTING 
Mounting on the wall is easy thanks to a special screw-in system.

GIFT PACKAGING
Packaging is an important part of each product and we pay special attention to it. 
We want our packaging to be ecological, good-looking, and compact.
So we use only paper (mainly recycled) and make the packaging as small as possible to consume as little paper as possible.

WEIGHT
Key Holder - 496 g
Whole packaging - 584 g
MATERIAL
95% Concrete
5% Plastic
Personalized orders are welcome. Write in the message what colors of keychains you would like to have and we will send them to you.