Concrete Key Holder - Light
Climbing Key Holder made of white concrete.
INCLUDES
Concrete Key Holder

3 keychain nuts/stoppers (one big and two small) or 4 keychain knots

Wall mounting kit
Modern design, special concrete mixture imitating rock, unique screw mounting system. These all represent the fujfuj Concrete Key Holder, an ideal gift, which fits into all climbing homes. It offers you an original solution of how to hang your keys using keychains in the form of small climbing nuts/stoppers or climbing knots. This is the reason why it is a great gift for all climbers. It represents rock structure with 7 cracks, so it can hold up to 7 keychains. It comes with three climbing nuts/stoppers or with four climbing knots.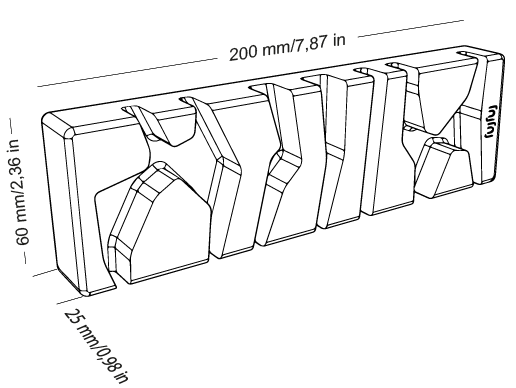 MOUNTING 
It is attached to the wall by screws or with a double-sided adhesive tape located on the back of the holder.
GIFT PACKAGING
Packaging is an important part of each product and we pay special attention to it. 
We want our packaging to be ecological, good-looking, and compact.
So we use only paper (mainly recycled) and make the packaging as small as possible to consume as little paper as possible.

WEIGHT
Key Holder - 496 g
Whole packaging - 584 g
MATERIAL
95% Concrete
5% Plastic
Personalized orders are welcome. Write in the message what colors of keychains you would like to have and we will send them to you.